DOYALD YOUNG WAS CUSTOM—
just like his work. He was one-of-a-kind, distinctive, unique.
Doyald Young passed last week due to complications following heart surgery. He was 84. Memorial services are pending.
He leaves behind a rich legacy.
As a teacher, he unlocked the secrets of letters for more than 4,000 students.
As a publisher of his own books, he passed on that same knowledge to thousands of would-be lettering artists in dozens of countries.
As a friend, he was a good listener, loyal, patient, exceedingly gracious, and generous.
Doyald Young was really good at being a great person.
And he created magic with a pencil.
I met Doyald in 2005, and was fortunate to get to know him over the past six years. I interviewed him here and not soon afterward, he sent me some fixes to the original LetterCult logo. My curves were off.

This small gesture exemplified his love for teaching, and his passion for letters. That passion for Custom Letters in particular provided the inspiration for LetterCult. He will be sorely missed.
Jill Bell, Stefan Bucher, and Ryan Jimenez, three of Doyald's close friends, offered their remembrances.
There's no other way to put it: Doyald Young was one of my favorite people. I wasn't his student and had come into my lettering career from training in calligraphy and sign painting, about as opposite as two people who have a career in common can be. But when we met at a book signing that April Greiman had in downtown L.A. about a decade ago, unforeseeably we clicked and found we had so much more in common than just lettering: We shared a city, colleagues, a love of literature and movies, type heroes, and battles with the same type foundries, licensing agreements, and computer programs.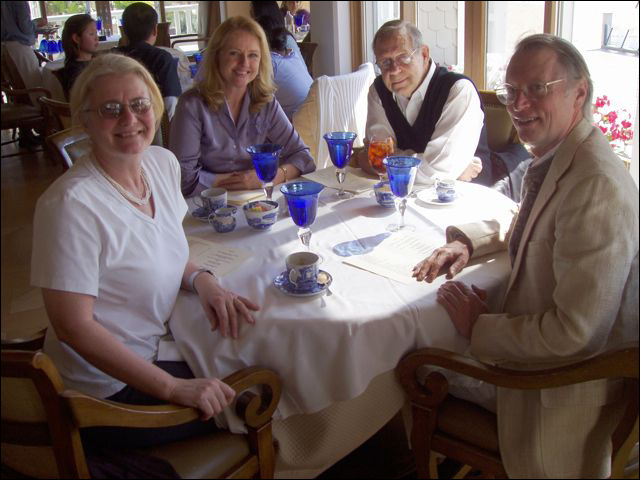 Our friendship subsequently flourished and one simply could not ask for a better amigo. Doyald was intelligent, observant, experienced and astute, a willing and entertaining conversationalist, a good listener, and was always just a phone call (or lunch) away. Our circles of acquaintances were mutually beneficial and grew: I introduced him to calligraphers and type designers, and he introduced me to L.A. designers, artists, and professors.
And he was a generous man: with his time, with samples of his lettering, fonts and books...not to mention his love of cooking and the fabulous dinner parties he held at his beautiful home. You haven't seen anything until you've looked through a pile of his gorgeous, immaculate pencil sketches. Just the best. His beautiful lettering is reflective of the care and effort that he put into all of his work, from the painstaking perfection of his fonts, to his carefully designed and thought-out publications. I will truly miss him and his warm smile, hug and kiss that always greeted me when we met...and when we parted.
Doyald was one of my dearest friends, and I miss him. In these sad days when we're all trying to adjust to the fact that he has left us. it's comforting to see so many people writing wonderful things about him. He meant so much to so many people. What makes me happy, is that this outpouring of love and appreciation didn't start on March 1st — a sudden spotlight shining on a forgotten hero. Doyald was a friend and teacher to people around the world. We've been busy admiring and adoring him for years, and I'm so glad that he was around to take it all in. As much as he protested people fussing over him, I know he appreciated it deeply, and I'm pretty sure he enjoyed it, too.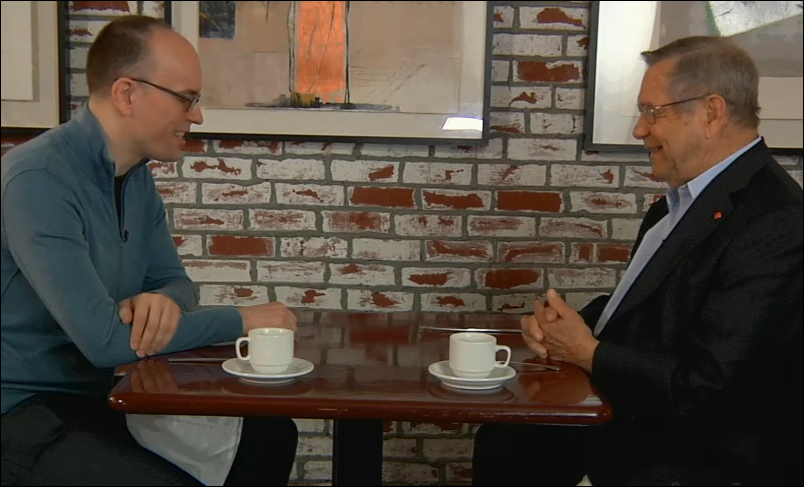 What's painful for all of us he left behind is that we weren't done fussing! There is so much more love and appreciation we had to give him. But we'll channel all that now to tell people about our friend, and what a beautiful man he was. His name will be spoken for a long time to come, and his work admired.
It's easy to say that he was one of a kind, and that they don't make 'em like that anymore. But if that's true, I don't think it would please Doyald. He was a teacher first, and as such I think the whole point was to pass on his knowledge, his skill, his aesthetic discernment, and his love of language and beauty. And again, he was there to see it happen. I know that his spirit will live on in all of his friends and students, and I hope we'll do him proud.
RYAN JIMENEZ, DOYALD'S PRESS SECRETARY
For over half his life, Doyald Young lived in a beautifully modest house surrounded by a bamboo forest in the hills of Sherman Oaks, where he lived, worked and wrote. He occupied a unique role as both sage and typographic Jedi-master for designers and typophiles of all ages and abilities, beloved by all those who knew him, a kind, gentle man who achieved the rare combination of citizen, artist and teacher.
Although he reached iconic status for his nearly half-century career in logotype and typographic design for many of the world's top brands, Doyald first and foremost considered himself a teacher. A pupil of the great lettering man Mort Leach, Doyald studied drafting at Frank Wiggins—now Los Angeles Trade Tech—and, for over 30 years, taught lettering and typography at Art Center College of Design, where he earned a degree in advertising in 1955. He once said that "What we may learn from the past and what we have to recognize is achieving in our daily work persistence, devotion and satisfaction. Gutenberg, William Morris and Frederic Goudy showed us these qualifications." And, in their footsteps, that is how Doyald, too, lived his extraordinary life.
The ability his two hands had for drawing some of the most remarkable letterforms was astonishing. He once spent two weeks working on a single capital letter for one of his books, relentlessly demanding of himself only perfection in the drawing of this script and its accompanying flourishes. He sent friends beautiful letters for their birthdays—all designed, typeset, and impeccably kerned by Doyald. He worked with cup after cup of draftsman's pencils at his desk, and kept lead points needle sharp. I can still remember seeing him draw a logotype for a client, in Caslon, from memory: It looked nearly laser perfect. When I commented on it, he said, "well, I'm glad you like the initial rough sketch." His talent in drawing approached the epitome of his art, and he was generous until the end in sharing that knowledge with students of all ages and types, and anyone who took an interest in it. For his lifetime achievement in design and lettering, and for his devotion to teaching, he was given an honorary doctorate degree from Art Center College of Design this year, an accolade he treasured.
Doyald's extraordinary fonts and his books on logotype design and letterforms are pillars of achievement. He was also an accomplished writer, and wrote volumes of essays over his life about where he'd been, whom he's known, and what he's seen. He dearly loved a wide circle of friends, and was unfailingly articulate and witty. He had a voice for radio, deeply rich with forthright pacing; it was a true signature. "I've never had so many people wanting to be my friend in my entire life, it's quite validating," he once quipped to me about Facebook. "You know, Ryan, in my days, you at least poured them a cup of coffee if you were friends, but now it seems like you just click 'yes.' "
Handsome and refined, Doyald had manners and that distinctive excellence we call style, and he always poured coffee for his guests, and, regardless of station, offered all of them, always, the fine linen. He was a gourmet cook, gave elegant dinner parties, and his coffee was always transferred from the coffee pot to an elegant steel Alfi serving carafe, the kind made for the Pullman railroad cars, the kind that weigh a ton and have a vacuum seal. "It's the only thing that keeps coffee truly hot, you see," he explained once. "And you mustn't ever have cold or even lukewarm coffee for your guests. Remember that." Doyald was a voracious reader, and with his friends would often discuss the latest movies, The New York Review of Books, the Sunday Times, or Vanity Fair over a bistro lunch. I mention these small details because it was precisely his interest in the nuance of life and in the world around him—the people, places, things and goings on—that informed his extraordinary understanding of the place and capacity of letterforms in reflecting aspects of the human experience.
He was generous with his time to friends, new and old, and one of the things I admired most was his genuine interest in everyone else's success. If there ever were perfect words to describe Doyald it would be these from Gatsby:

"He smiled understandingly–much more than understandingly. It was one of those rare smiles with a quality of eternal reassurance in it, that you may come across four or five times in life. It faced–or seemed to face–the whole external world for an instant, and then concentrated on you with an irresistible prejudice in your favor. It understood you just so far as you wanted to be understood, believed in you as you would like to believe in yourself, and assured you that it had precisely the impression of you that, at your best, you hoped to convey."

Dr. Doyald Young personified the word gentleman, was a teacher and scholar in his field, and was remembered in The New York Times. When we lost him, the grief for many of us felt as if the alphabet had somehow lost its D. He was a most admired and remarkable friend, beloved beyond measure.
Doyald Young was a true poet of letterforms.
••• REMEMBRANCES FROM AROUND THE INTERNET •••
ART CENTER PRESIDENT LORNE BUCHMAN from ART CENTER'S BLOG
Doyald was a gifted artist, an astonishingly powerful teacher, and well-deserving of the many accolades he received during his illustrious career. We honored Doyald at Art Center last December with a Lifetime Achievement Award, and we bestowed upon him an honorary doctorate of humane letters. The double entendre was not lost on the Art Center community.
Indeed, Doyald, the great human being and the brilliant artist, infused in every exquisite font and letterform he created his immense and passionate humanity. We deeply mourn the passing of our dear and wonderful friend.
STEPHEN HELLER, NEW YORK TIMES
When digital programs like Fontographer made it easy for anyone with a computer to create typefaces, many of them purposefully inelegant, he advocated a high level of craftsmanship that he believed had been lost. In so doing, Mr. Young challenged a new generation to reject so-called grunge design in favor of precision.
JOSHUA LURIE-TERRELL at MYFONTS.COM's BLOG

Doyald will be fondly remembered by the many budding typographers and letterers he taught and inspired, and his work will resonate in that of the generations of commercial artists he made it his mission to teach.
JEAN FRANÇOIS PORCHEZ on his BLOG
Thanks for all your knowledge, your dangerous curves and inspiration, you're a formidable lettering artist, a formidable typeface designer, with a great éclat. Glad to be among your friends for the eternity. I will keep your smile in mind more long.
GRANT HUTCHINSON at TYPECON'S BLOG
It saddened us to hear that Doyald Young passed away today. Doyald was at once a passionate typographer and master letterer, a patient instructor and mentor, and a devoted friend. He was also the most recent recipient of the Society of Typographic Aficionados' Typography Award — presented during TypeCon2010, and accepted with the grace, humor, and humility expected of such a vibrant personality.
TAMYE RIGGS, SOTA PRESIDENT
The time I was lucky enough to spend talking with Doyald is something I will always treasure. He was a dear, sweet man, and an incredibly gifted artist. We have lost someone special. I will never forget him.
THOMAS WILDER, IDSGN
There have been many incredibly talented designers in this profession over the years, but it takes a special person to approach both students and the industry with such love and passion.
KEN BARBER at his TYPE AND LETTERING BLOG
A former student of the great Mort Leach, Doyald was not only an exceptionally gifted letterer and type designer, he was a genuinely kind man who always had an encouraging word for those that looked up to him. Doyald will be missed.
CANDICE LOPEZ on the SDCC BLOG
In the master's hand a 2H pencil became a magic wand. He was remarkable, elegant and kind and was loved by so many here in San Diego and around the world. He leaves the great legacy of his teaching, forever changing students and teachers through his books, generosity and extraordinary work. Articulate beyond measure, his words and letters resonate.
LOUISE SANDHAUS at FELT & WIRE
His kindness and counsel were treasured by all who knew him, and his generosity of spirit will not be forgotten.
MATT PORTER on the NEENAH PAPER BLOG
Doyald Young was called the "Poet of Letterforms" because he was never 'pleased' with a letterform until it achieved perfection in his mind — perfect curves, perfect proportions, perfect kerning, letter-spacing and the like. Some of his typefaces took over a decade to complete for that reason. This principled aspect of his character was something many admired.
LEE DALE at YOU SAY YEAH
This is truly a great loss for the design community. But more importantly, a generous, giving man who had so much to offer is gone. Doyald, you'll be missed.
IVAN RASZL at CREATIVE BITS
Young's death is a great loss, but his work will continue to shape, grow and benefit the ever expanding field of design, which he dedicated much of his life to. Even to those who never knew him, like me, his legacy is truly inspiring. We will miss you, Mr. Young.
***
Lynda.com has put the entire 39 minutes of a mini-documentary online. If you haven't seen it, please do.
Doyald Young, Logotype Designer